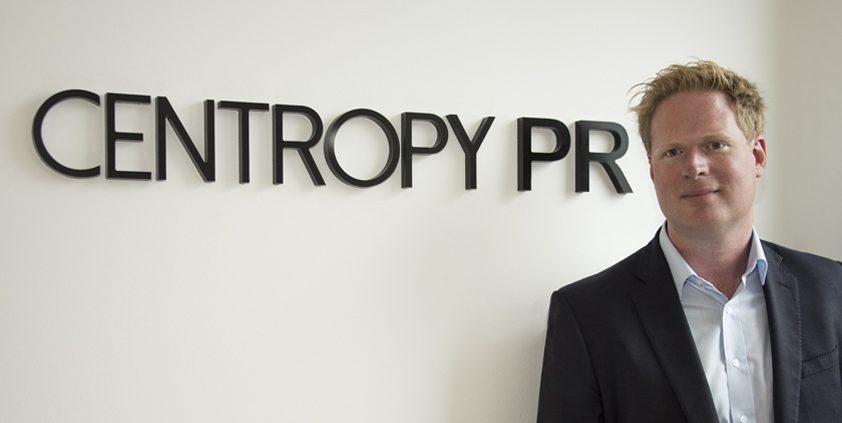 Steven George-Hilley, founder of Centropy PR, talks about how start your own agency, balancing work and family and why going it alone is the ultimate thrill.
---
You founded Centropy PR in September last year. What inspired you to start your own agency?
I started out in the industry over a decade ago and had been dreaming of launching my own agency for years. It was just a question of having the confidence to take the plunge. Several clients and family members had been urging me to go out on my own for a while. I'd just turned 32 and was seeking the next big career opportunity.
After four years of leading a large team of unbelievably talented PR professionals, I'd also broadened my experience to include budgets, growth and resourcing. Running your own agency requires huge amounts of operational awareness and my previous job helped me learn how to master this.
In addition, I'd developed my policy expertise through my role as director of technology at the Parliament Street think tank.
Then there is the thrill factor. Going out on your own is the ultimate risk – especially when, like me, you have a young family and a mortgage to pay. The stakes are high but so are the rewards.  It was a "now or never" moment.
What are some of the biggest challenges you've faced so far?
How long have you got?!
When you go out on your own you get lots of warm leads, but not all of them come through. The difference is that every single proposal is designed, created, written and proofed by you – and you alone. This can mean hours of hard work failing to transpire into any form of revenue. You have to balance this time against working on your existing clients, who are actually paying your bills.
Teething problems with invoice payment dates, setting up email aliases, VAT returns and phone lines are all part and parcel of the joys of self-employment.
On top of all this, working late into the evenings and full weekends has left me with a string of nasty colds, inflamed by a screaming baby throughout the night. Holidays are out of the question, so your only respite is Lemsip, black coffee and Strepsils.
What's surprised you about going out on your own?
I've been overwhelmed by the support I've received from my former colleagues, ex-bosses, family members and other new friends in the industry.
A single message of congratulations or an offer for advice over coffee means so much when you're out on your own. A string of other agency owners and tech MDs have been mentoring me and helping guide Centropy behind the scenes. I simply couldn't have done it without them and owe them big-time.
Name three things you need to have to successfully branch out on your own.
Firstly, you need contacts – loyal ones. You cannot grow an agency unless you have cultivated a network of clients that believe in you and are prepared to put their money where their mouth is.
Secondly, you need savings. Invoices can take around 30-60 days to pay, minimum. So, I've armed myself with two credit cards to cover the shortfall while I get off the ground.
Thirdly, you need confidence. Lots of people talk about going out on their own but few have the balls to do it. Don't let fear of failure cloud your judgement. There is work out there if you're willing to put in the hours to win it.
Do you think future agency models will include a number of smaller and specialist agencies?
We're in the era of the sharing economy and the PR industry needs to wake up to this trend. The rigid agency structure will soon become a serious liability as clients look for flexible, ambitious alternatives.
We are rapidly moving towards an industry where white labelling of services, borderless PR and freelance contracts become the norm. I expect to see a new wave of agencies launching in the next year as account directors and managers recognise they can earn substantially more money and enjoy career flexibility out on their own.
Centropy is already planning to embrace this trend. We're building a partner academy network for freelancers and negotiating with other agencies large and small about how we can work together.
Finally, what advice do you have for someone thinking about starting up their own agency?
Do it. Do it now. Take charge of your own destiny, work hard and build something special. There are plenty of people waiting to help you do it.