Here's a round-up of the week's top PR news, featuring the first CisionMeets… webinar, AMEC's new global MD, the Hacks vs Flaks teams and wins for WP Communications and FleishmanHillard Fishburn.
CisionMeets… The Hook
---
Cision is thrilled to announce the launch of its new CisionMeets webinar series, which combines our industry-leading media briefings with our webinar format.
In the first of our CisionMeets webinars, we will be joined by social publisher, The Hook's chief content officer, Mike Burton, and head of production, Jessica Lever.
The pair will talk all things The Hook for around 45 minutes, including the title's commitment to publishing funny, viral entertainment content, the make-up of its social following, and how PRs can work with the publisher.
Then, we will open up the session to a Q&A segment available to everyone viewing the webinar.
PRWeek 'Making influencers work for you' session
---
Angie Vaux, Cision's VP sales, will moderate a panel discussion at PRWeek's 'Making influencers work for you' breakfast briefing on Tuesday 25 September.
The Cision-sponsored event will encompass four sessions which explores what it takes to create truly standout influencer marketing campaigns. Vaux will moderate the morning's final session: Choosing the right influencers to maximise return on investment.
More information on the securing tickets and the full event agenda to this exclusive breakfast briefing can be found here.
Interview
---
Ruth Jones, LEWIS's newly-appointed UK managing director, explores her new role, PwC's Tech She Can charter and how to ensure the comms industry provides opportunities for women to develop their careers.
Account wins
---
Build-A-Bear has appointed FleishmanHillard Fishburn to to manage its UK PR account. The agency will build the American retailer's brand awareness, with newly-hired Lesley Anderson heading up the account team.
Dutch fintech company Five Degrees has selected WP Communications as its agency of record to co-ordinate press office activities in the UK.
Holland & Barrett has appointed Pegasus to lead its influencer marketing strategy. The agency will work with both micro influencers and celebrities to create social content for the brand.
Pernod Ricard has appointed instinct to handle the launch of its new Jacob's Creek Aperitivo Spritz drink. The campaign will drive awareness around the key summer and Christmas drinking periods.
Sorted, the global delivery experience firm, has selected Manc Frank as its consumer PR agency. The agency has been briefed to increase brand awareness and drive recruitment at the company.
Artisan jerky brand The Curators has appointed Palm PR to manage its UK launch through an integrated PR and influencer campaign.
Infinite Global is advising Vannin Capital, a litigation fund provider, ahead of its planned flotation on the London Stock Exchange.
Luxury bed retailer Savoir has appointed ANM to handle its PR and comms. The agency will be responsible for increasing global brand awareness.
Upright vacuum cleaner manufacturer SEBO UK has appointed Nobull Comms to deliver an integrated PR campaign.
MMPR will handle PR for restaurant Sophie's Steakhouse and sister club Jack Solomons.
The Real Housewives of Cheshire star Seema Malhotra has selected The Can Group to handle her publicity.
New and used car dealer the Westover Group has appointed Liz Lean PR as its retained PR agency.
Breastfeeding clothing brand Tilbea has appointed Hustle & Fox to represent it during its launch.
People news
---
Reuters has appointed Joel Ivory-Harte as PR manager for EMEA. He joins from Telegraph Media Group and will manage PR activities across the news agency's editorial and commercial operations in the region.
Engine Group has appointed Jim Moffatt as CEO of its European and Asia Pacific operations. Moffatt will join on 15 October and oversee the group's offices in London, Manchester, Dusseldorf, Hong Kong, Singapore, Shanghai, Sydney and Melbourne.
Ketchum has appointed Con Frankin as managing director of healthcare in its London office. He will be responsible for growing and shaping the firm's healthcare offering.
Lesley Anderson has joined FleishmanHillard Fishburn to lead the brand team's lifestyle and leisure division. She will report into head of brand Lauren Winter.
Portland has hired Jonathan Stock as head of events and marketing. Stock was previously an events special advisor to Theresa May at No 10.
Houston PR has appointed financial services PR specialist Alexander Clelland as a director.
Lansons has promoted director Claire Southeard to its management board. She is responsible for speeding up the development, transformation and integration of Lansons' digital, content and marketing offer.
Sard Verbinnen & Co has expanded its London footprint by making a number of hires to its senior UK team. Charles Chichester has joined the agency as managing director, while Rory King has been appointed vice president. The agency has also hired Robert Hersov to its advisory board as director and Richard Holloway as a senior counsellor.
Weber Shandwick has made seven new hires to its Scottish team. It has hired Jamie Bannerman, Lorna Irvine and Laura Hamilton as account managers, Catriona Timoney has been appointed as an associate, while Anna Longton, Amy Moore and Iain Hall have joined the agency's apprenticeship programme.
Agency news
---
Grayling has opened a new office in Glasgow – the agency's ninth in the UK. It has appointed Candace Watermeyer as associate director to lead its Glasgow offering, with Anna McDonald and Cameron Taylor also joining as account executives.
Allison+Partners has acquired OneChocolate Communications. OneChocolate founders Jill Coomber and Sue Grant will become managing director of the agency's European consumer practice, and managing director of its European technology practice, respectively.
Cello Health Communications has acquired firstlight's healthcare practice and team. The practice will be renamed Cello Health Public Relations.
Seven Hills has created two new practice areas – purpose and innovation & investment – to add to its offering. Krissy Koslicki has been named director of the purpose practice, while director Jack Davies will be practice lead of the innovation & investment division.
Sarah Bruce and Stephen Bryant have co-founded Silver Buck, a new PR and marketing agency dedicated to health technology and IT in healthcare.
Hanover Health has launched the 2018 Mackay Award, which offers the winner a six month development programme within the practice. The award is named after late Hanover founder Gregor Mackay.
Campaign Collective is to fund a news site – The Rooftop – which aims to promote positive charity and campaigner news stories.
AMEC news
---
AMEC has announced that Johna Burke will become the organisation's new global managing director at the end of the year. Currently CMO at BurrellesLuce, Burke will work in transition with current CEO Barry Leggetter from 24 September, taking over fully when Leggetter leaves AMEC in December following 11 years' service.
Hacks vs Flaks
---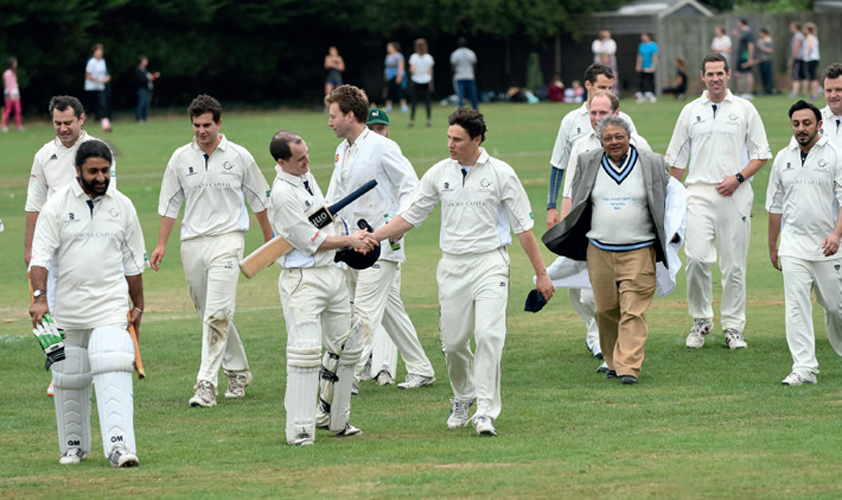 The team behind Hacks vs Flaks has announced who will be representing each industry in their annual cricket and rounders battles tomorrow at Club des Sports in London.
The National Autistic Society has received generous contributions from lead sponsors Lowell and co-sponsors Ascot Lloyd, Brewin Dolphin, Blackstock, CBRE, EY, FTI Consulting, Vismedia, Emperor Design and Sharpener Communications
The day is open to all – cricket starts at 11am, followed by rounders at 1pm, and a reception at 3pm.
"Hacks vs Flaks is here – we'd love to see journalists, PRs, friends and family heckle us as we make fools of ourselves. It is a great day and cause – supporting autism makes it worthwhile," said FTI Consulting's Jamie Ricketts.
The cricket teams are as follows:
Hacks
Dan Hyde (The Mail on Sunday, captain) Harcharan Chandoke (Daily Mail), Andrew Ellson (The Times), Ben Wright (The Daily Telegraph), Eklavya Gupte (S&P Global Platts), Matt Craig (freelance), Mike Atkins (The Times), Russell Lynch (Evening Standard), Fergus Ryan (Financial Times), Joe Mayes (Bloomberg), Nic Fildes (Financial Times) and John McDermott.
Flaks
Jamie Ricketts (FTI Consulting, captain), Tessa Bruyns (Euromoney), Ed Brown (Smithfield), Alex Brennan (Hudson Sandler), Laurence Jones (Dragon), Jason Nisse (Nisse Consultancy), Tom Harper (EV8 Technologies), Adam Davidson (FTI Consulting), James Saville (Goldbug), Jonas Nisse and Nick Barlow (UX Designer).
The rounders teams are as follows:
Hacks
Anna White (freelance, captain), Ros Snowdon (Yorkshire Post), Alan Tovey (The Daily Telegraph), Chris Williams (The Daily Telegraph), Jessie Hewitson (The Times), Andrew Trotman (Microsoft) and Luke Jeffs (Global Investor)
Flaks
Sorrelle Cooper (Sharpener Communications, captain), Vicky Conybeer (EY), Tahlie Cooper (Edelman), Neil McKenzie (Blackstock), Bianca Nicolescu (Blackstock), Harriet Bolt (House Group), India Smith (House Group), Louisa Jarvis (House Group), Lisa Flounders (House Group), Vicki O'Hare (Oracle), Emily Murphy (FTI), Jenna Rorison (FTI), Ellie Perham-Marchant (FTI), Andrea Williams (Redleaf), Alex Reid (Redleaf), Laura Sears (consultant), Emma Marshall (Instinctif), Rebecca Warden-Brown (Instinctif), Dominique Staindl (ING), Ed Gritten (ING), Leanne Tritton (ING) and Andrew Boateng (ING)