Cision hosts over 50 live and online networking events a year, giving you access to the best connected community in the industry.
Upcoming Webinars and Events
Cision Meets…About Time
Cision is holding an exclusive media briefing with online lifestyle magazine About Time, where will be joined by the publication's founder and editor-in-chief, Angelica Malin.
March 5, 2019 - 08:00
---
Archived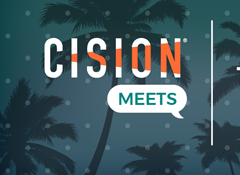 CisionMeets… The Travel Magazine
Our latest webinar will explore what being part of the earned media revolution actually means. How does PR move from evolution to revolution? will examine the key themes which [...]
Sign Up for a Demo
See what Cision software can do for you.
Request Demo